Our History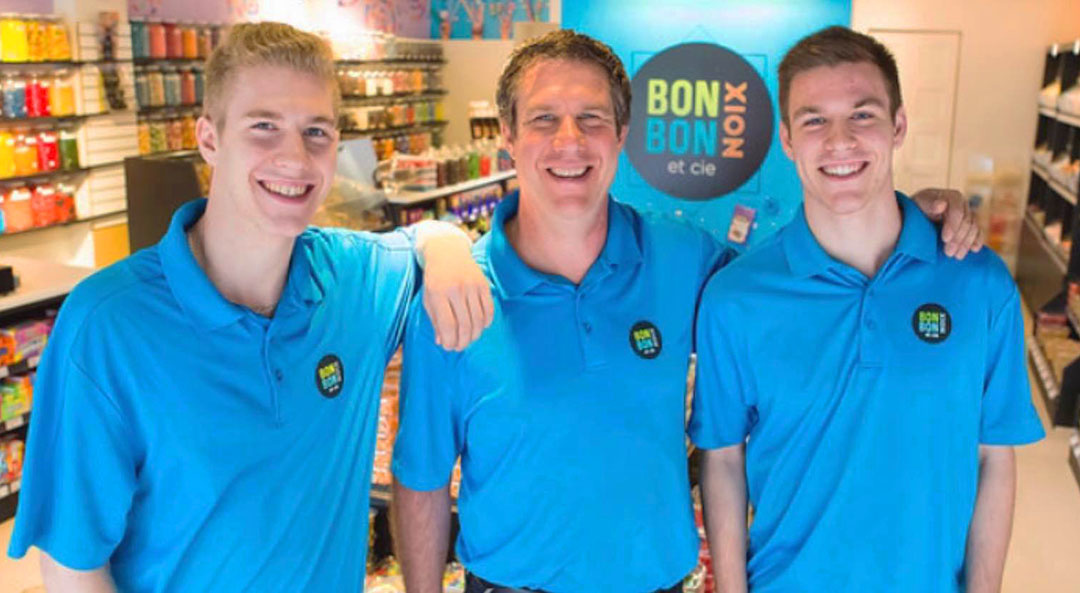 The founder Alain Vandal (center) and his two sons, Jonathan Vandal (to the left) and Nicolas Vandal (to the right).
 It is in 2007 that the beautiful and eventful adventure of Bonbons Noix et Cie began. The founder and current president, Alain Vandal, opened his first store, on 125 Conrad Gosselin, under the name "Super Alimentation du Haut-Richelieu". In its early stages, the store sold diverse ingredients and cooking products as well as candies and nuts. It was open to both merchants and the general public. Moreover, the shop only sold industrial quantities or predisposed quantities that were offered at the cash register. As the popularity of the store grew, the demand for smaller quantities simultaneously increased leading us to the creation of the candy bar. With hard work and dedication, the concept of the candy bar grew to more than 200 choices of bulk products. As for the other products sold in store, their quantities were also reduced to satisfy the public's desires.
5 years later, "Super Alimentation" changed its name to "Bonbons Noix et Cie", a corporate name that was not only seen as more appropriate for the owner's new vision but that also clearly mentioned the main products available. The concept was modified to ensure that the majority of the products could be offered as bulk goods. Due to this change in direction, numerous cooking products and ingredients were abandoned to solely focus on candies and nuts. Because of our incomparable freshness and quality, we are proud to currently be celebrating our 13th anniversary.
At this very same time, Alain's sons, Nicolas and Jonathan, were introduced to the marvelous world of confectionary. No taller than the counters, their motivation and interest in business could already be seen. Still nowadays, the boys are present in this small business. Nicolas takes care of the administration and the online shop while Jonathan manages the store in St-Lambert and supervises the creation of candy pizzas under their brand Nick&Joe.  
Flash forwarding to the future, since 2017, Alain is now fully at the service of his business. He makes good use of his numerous years of experience as sale manager of big food and confectionary manufacturers to steer his own boat. The online shop is our newest innovation. It is impressive to see our clientele expand but also to see that customers all over Canada are choosing Bonbons Noix & Cie to buy their favorite products.
It is a pleasure to welcome you in the family of Bonbons Noix et Cie!